From 16th June 2023 in German Cinema
From 16th June 2023 in German Cinema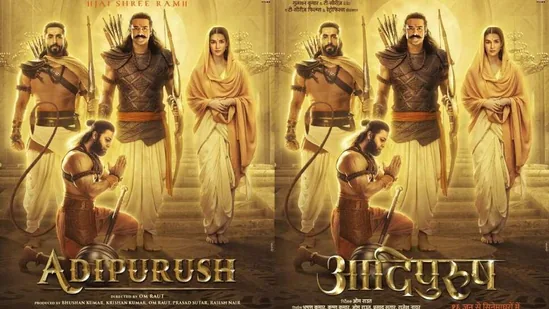 In Hinduism, Lord Ram is also addressed as Adi Purusha.Prabhas will be seen playing the role of Lord Rama and Saif Ali Khan will play the role of Lankesh, the demon King Ravan, in the film.
Release Date:
Running Time:
Director:
Language:
Subtitles:
Genre:
FSK
16- June – 2023
2 hours 54 Minutes (TBC)
Om Raut
Telugu
English
Drama
TBC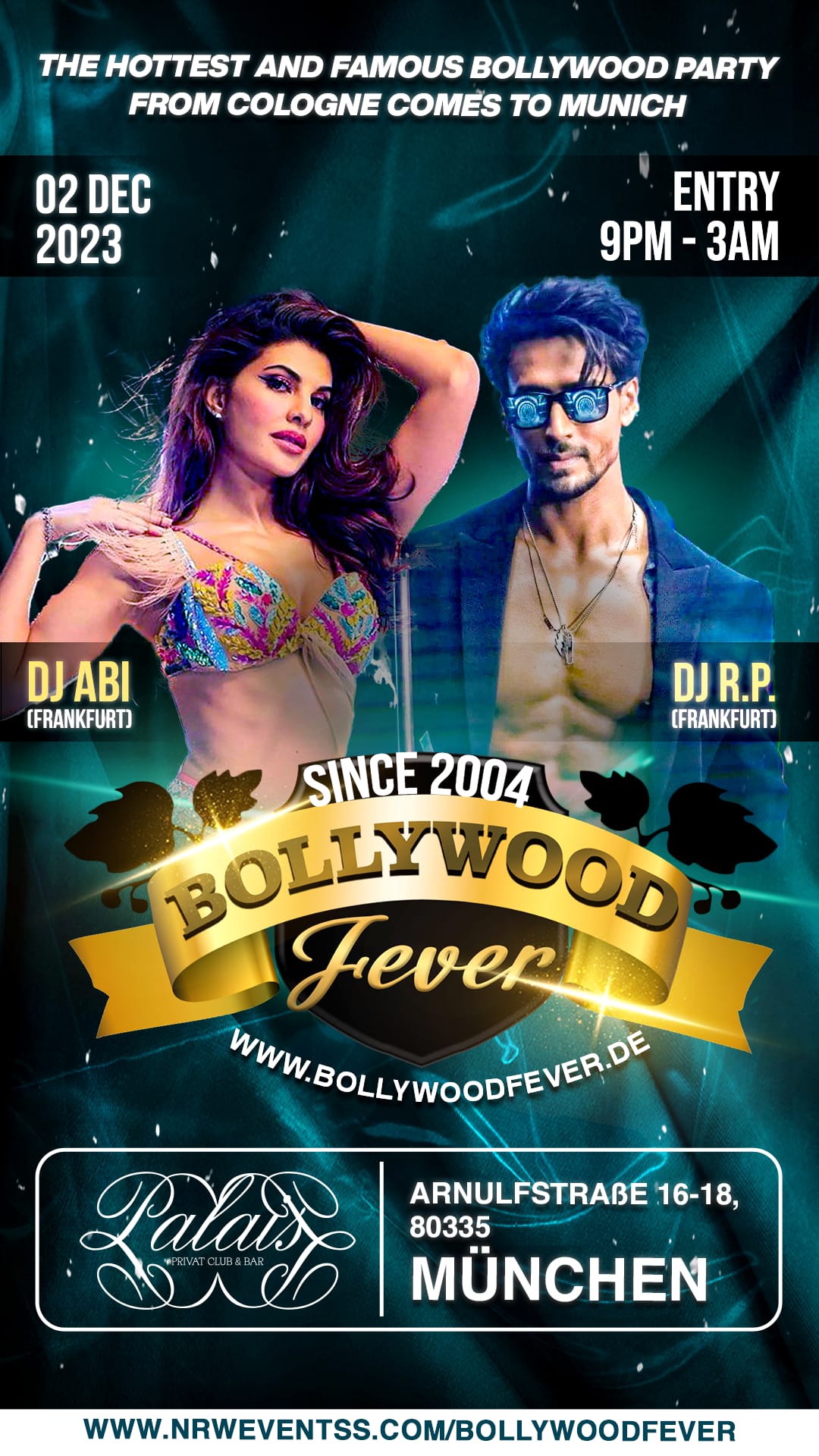 🎉 MUNICH'S ULTIMATE 13-HOUR PARTY MARATHON! 🎉
One Night. Two Vibes. Unforgettable Memories.
Join us for the longest party ever in Munich! Dive into the vibrant world of Bollywood from 9pm to 3am, and as the night deepens, transition into the electrifying beats of techno till 10am. All under one roof, all in one ticket!
🎟 1 Ticket, 2 Parties! 🎟
Your golden ticket to Munich's most epic party night! Experience the magic of Bollywood with DJ Abi and DJ R.P and then groove to techno beats from 3am onwards. Secure your spot now for this unparalleled 12-hour party experience!
📅 When? 2nd December 2023
⏰ Time?
Bollywood Party: 9pm – 3am
Electro Party: 3am – 10am
📍 Where? Palais Club, Arnulfstraße 16-18, München, www.palaisclub.de 
📞 Contact? For VIP table reservations, dial +49 1745641612 /+4917644017903
—————-
Please note:
● Don't forget your ID – identification required
● Dress to Impress
● Tickets are non-refundable
● Bollywood Party: 9pm – 3am
● Electro, House & Techno Afterhour: 3am – 10am (It is incl. in Ticketprice)
‐‐——————-
SO 3.12.23_3-10h (Afterhour)
RAINER WAHNSINN + 2
Rainer Wahnsinn (Electronic Monster / M)
Daniel Bortz (Permanent Vacation / Innervisions / Augsburg)
Am ersten Advent mag auf den Kränzen nur ein Lichtlein brennen, bei uns sind es jedoch sicher einige mehr. Denn die nachtaktiven Plattenprofis und Soundchecker Rainer Wahnsinn und Daniel Bortz sorgen ab 3 Uhr dafür, dass die Lightshow keine Pause mehr hat. Sie ballern ordentlich Beats heraus, wie es sich für wahnsinnige elektronische Monster-Macher gehört. Bei Daniel Bortz darf's zwischendurch ruhig
auch mal ein bisserl Nu Disco und Feingeist-Housemusik sein, schließlich veröffentlicht der Augsburger regelmäßig auf entsprechend verorteten Labels wie Permanent Vacation, Innervisions und Suol. Also dann, es werde Licht!
Time: 03 – 10h
www.palaisclub.de 
http://danielbortz.de/
https://www.facebook.com/danielbortzofficial/ 
https://soundcloud.com/rainer-wahnsinn/ 
https://www.instagram.com/rainerwahnsinnmusic/ 
https://www.facebook.com/RainerWahnsinnMuenchen/ 
https://www.facebook.com/ElectronicMonster/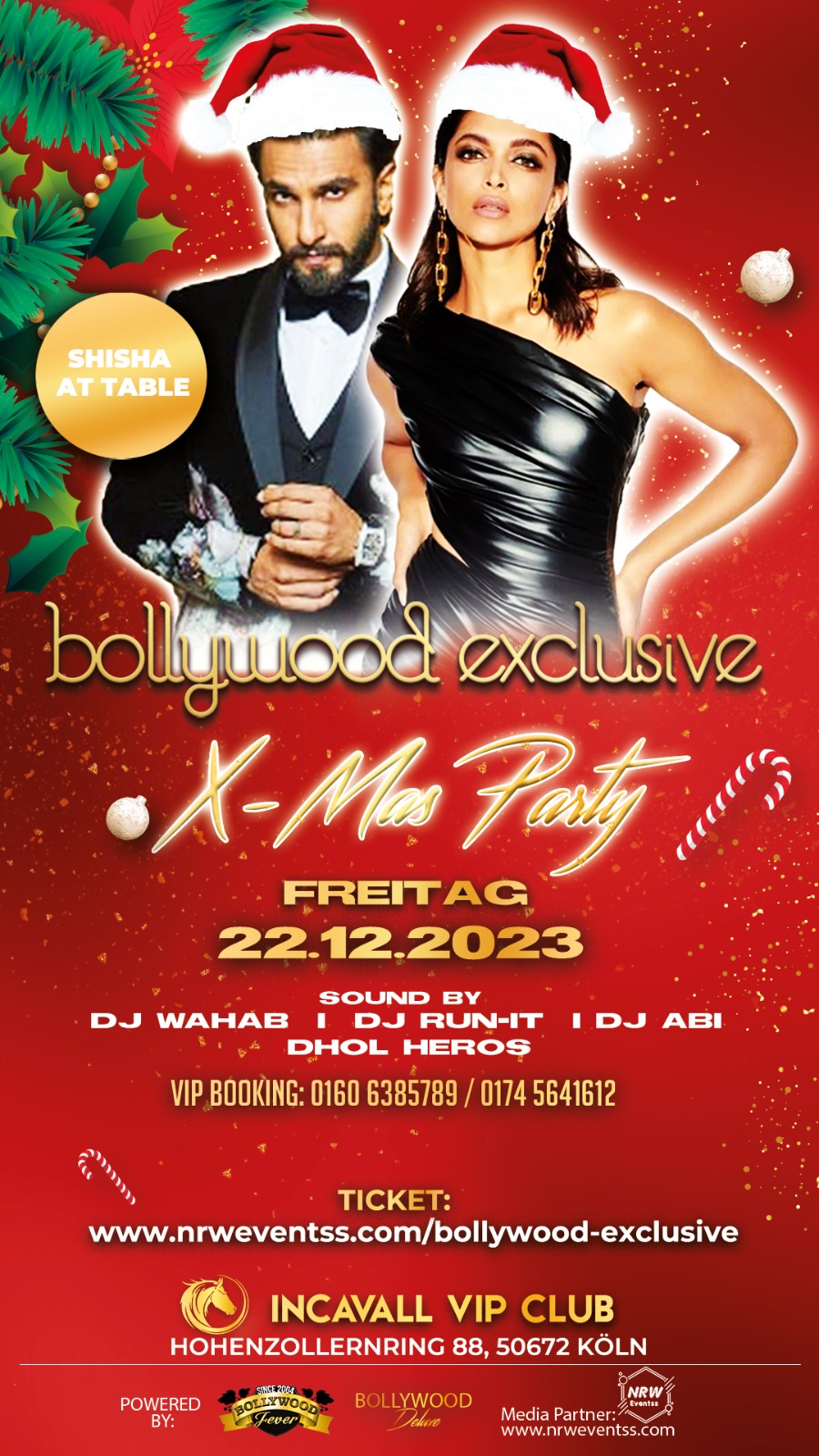 BOLLYWOOD X-MAS PARTY IN KÖLN CITY
Liebe Bollywood- und Partyfreunde,
Wir laden euch herzlich zu unserer öffentlichen Bollywood-Weihnachtsparty ein! Taucht mit uns ein in die festliche Atmosphäre der Weihnachtszeit und genießt eine Nacht voller mitreißender Bollywood-Beats und exotischer Klänge. Es erwartet euch eine unvergessliche Nacht voller Tanz, Spaß und Freude.
Unser talentierte DJ's haben ein spektakuläres Programm für euch zusammengestellt, das euch auf die Tanzfläche ziehen wird. Von den legendären Klassikern bis zu den neuesten Bollywood-Titeln – ihr werdet nicht stillstehen können. Lasst euch von den mitreißenden Rhythmen mitreißen und zeigt eure besten Tanzmoves.
Begleitet uns auf dieser unvergesslichen Reise durch die Welt von Bollywood und feiert mit Gleichgesinnten.
SEID DABEI UND HABT EUREN SPAß!!!
Wir freuen uns auf euch und eure Unterstützung!
—————-
Datum: 22.12.2023
Uhrzeit: 22h – 5h
Ort: Incavall VIP Club
Hohenzollernring 88, 50672 Köln
———-
#VIP BOOKING
Kontak: +49 1606385789 / +49 1745641612
‐—————
Please note:
● Don't forget your ID – identification required
● Dress to impress
● Tickets are non-refundable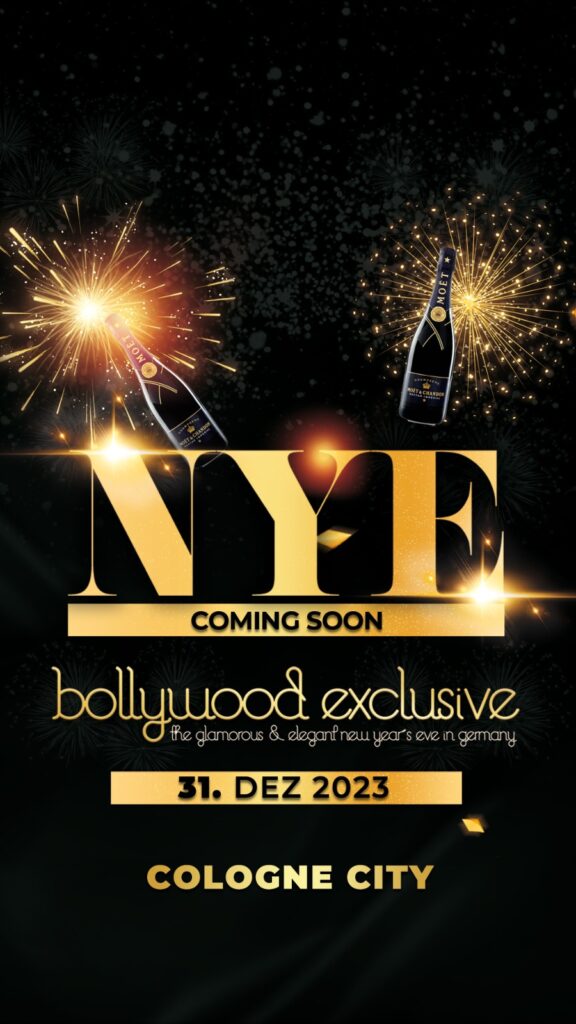 STAY TUNED FOR BOLLYWOOD NEW YEAR EVE EVENT @ COLOGNE CITY!!!
SAVE THE DATE:
31. DEC 2023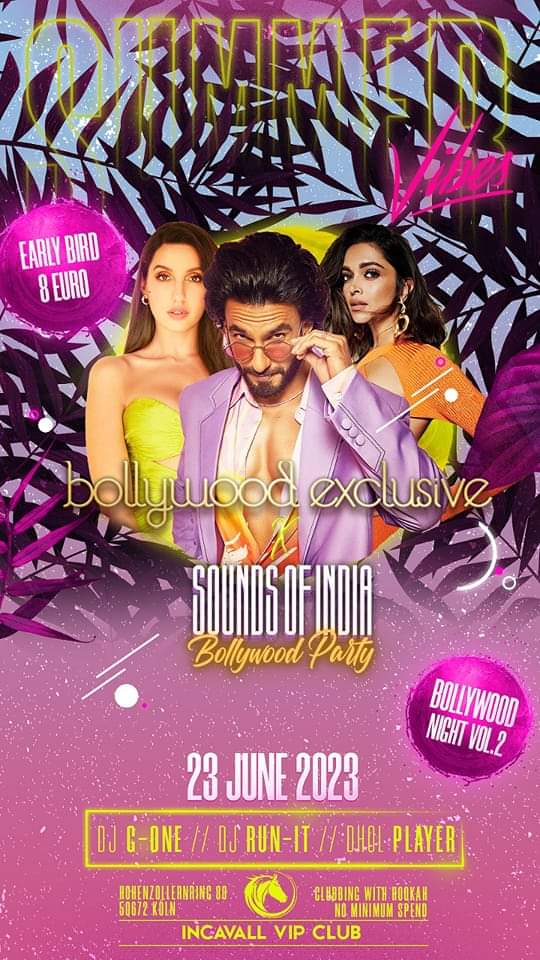 Bollywood Exclusive & Sounds of India presents Bollywood Night in Köln
"Bollywood beats, live dhol, and a night to remember." Join us for a night of non-stop entertainment, thumkas & bhalle-shalles live in Köln!!
Featuring DJ G-ONE & DJ RUN-IT,  who are ready with their insane mixes and remixes to make you go crazy. Not to miss is the live DHOL on stage
Book your tickets now for the ultimate Bollywood DJ party experience."
Date: 23rd June 2023
Time: 10pm – 5am
Venue: InCavall Club, Hohenzollernring 88, 50672 Köln
Please Note:
Minimum drink consumption – ZERO. Only when you are taking a seat, have to pay in cash on the Bar
Dresscode: Dress to Impress 
Please do not forget to carry ID along for the security check